WELCOME TO THE OFFICIAL WEBSITE FOR LEARNING TO SKATE IN THE PORT HURON AREA
PORT HURON'S BEST AND LONGEST RUNNING PROGRAM
Below you will see all skaters will move thorough Snowplow Sam 1, 2, 3, and 4 earning badges along the way. From there they will transition to either Basic or Hockey and earn additional badges. It is at Basic 4-6 or Hockey 3-4 you'll be ready to move out of LTS.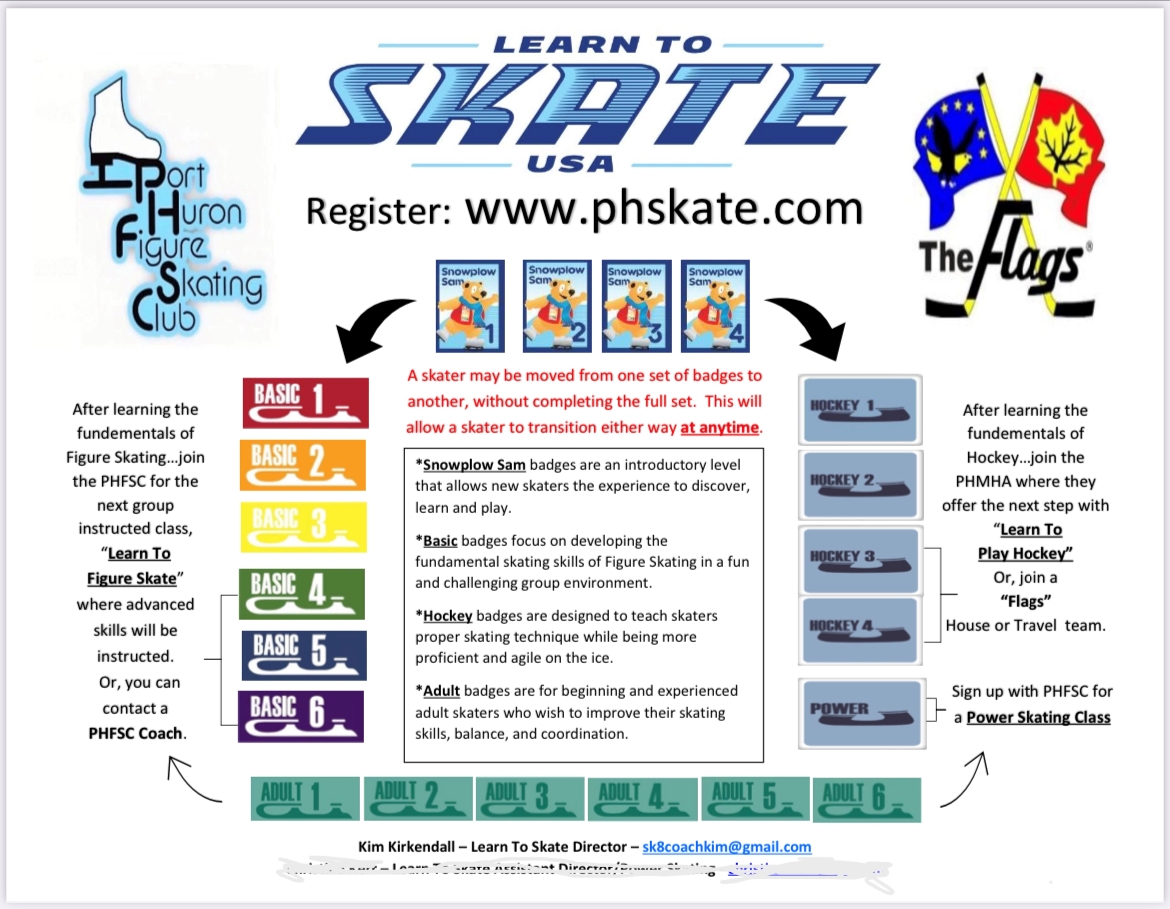 FREQUENTLY ASKED QUESTIONS
Do you really supply skates and a helmet for my child to use?
Yes we do!!! We have both hockey skates and figure skates as well as hockey helmets complete with cages. After we fit your child we assign you a cubbie in the locker so the stuff is always there for you to use for learn to skate. Please do not take it home.
Is the registration fee refundable if my child is not ready to learn to skate or decides not to learn?
Yes, a portion of it is. We only ask that you try before deciding. Many youngsters are a little nervous and scared, but after a skate or two they should become comfortable and begin having fun. If you decide it's not for your child we can issue a prorated refund, or move your child to another class at a later date.
When does the season start?
We offer 4 different Learn to Skate sessions - approximately 10 weeks each. One starts in September, another November, another March, and finally June.
Why should I register for Learn to Skate and not just sign my child up for hockey?
Hockey is a fast paced game with many children of varying abilities at the younger age. For your child to get the most out of the learn to play hockey program, it is best if they have the fundamentals down. This prevents the practices from being slowed down for the children that can skate already because of the children that cannot.
If my child takes to skating very quickly, can we move him/her up to the learn hockey program or private figure skating lessons?
Yes. If your child quickly moves through the LTS (Learn to Skate) program we can always move them into the learn to play hockey program or private figure skating lessons.
When do they skate?
We offer skates on different days to fit your busy schedule. You can choose from Monday at 5pm, Thursday at 6pm or Saturday at 10:30am. You can not mix and match days, however you can register for more then one class.
What is a good age to signup for LTS (Learn to Skate)?
We have some children as young as 2 years old and we have children as old as 14. We even have a couple adults. The sooner, the better, but it's never too late to start.
Can I register if a session is already in progress?
You can. We have kids of all ages and skill level. We can always slide you child in our of our groups.

Where do I signup?

Visit www.phhockey.com and click on "register now". If a program is not open for registration there should be some news on the main page of the website, or you can email or call the hockey office. The hockey office contact info can be found under the PHMHA Contacts tab of the website.
What are the current prices?
Prices vary depending on the number of skates but generally they are around $80. The actual price will be listed on the registration page.

What happens after my child completes LTS (Learn to Skate)?
Typically children interested in hockey will complete a full year of LTS (Learn to Skate) then signup for U8 (8 & Under/Learn to Play Hockey) the following year. It really depends on if your child is ready to make the move up to the U8 Program. Our U8 Program starts mid September and goes through February. Registration is always open for the U8 program, but you must be able to skate before learning to play hockey. Children interested in figure skating may continue to sign up for LTS year after year to work through each level or may decide to move into private lessons with a coach.